Unity offers open office hours Tuesday - Friday from 10:00 - 2:00pm except for holidays. 
      Call phone # 517 371-3010 Jessica Shelton to ensure someone is available.
Sundays, the building is open by 9:30 for SALT classes and 10:30 for Services
Minister is available Thursday - Tuesday, and is often in the office on those days (Rev. Sharon cell phone 517 243-2568)
Grounds are open 24/7
If you want to stop by the office or tour the building, we recommend calling (phone 517 371-3010) to insure someone is available to meet with you.
Office email: UnityLansingOffice@gmail.com       Minister email: RevSharonKetchum@gmail.com 
You can most always reach the minister, Rev. Sharon Ketchum on her cell phone 517 243-2568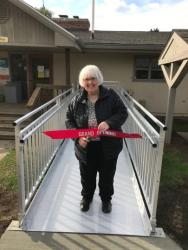 A ramp has been added to the Lodge for full accessibility for everyone.
The addition of an accessible bathroom
in the upper level of the Lodge is completed and we received our occupancy permit at the end of 2022.
Thank you Jerry Podany and Stacey
and all the other volunteers who made this happen!
The grounds are here or your enjoyment at any time. 
Feel free to take a walk, enjoy nature and a bit of silence in the city.