The 2023 Board of Trustees
There are up to three openings on the Board of Trustees. Dan Maynard is completing two terms and is not eligible to run again. Kathy Assiff is completing her term. Jill Dening is completing the final 4 months of a term previously held by Casey Miller. If the new bylaws are approved, we have the option of a 5–7-member board.
2023 SLATE of NOMINEES FOR THE BOARD OF TRUSTEES
Presented by the 2022 Nominating Team of Elected Congregational Rep. Jerry Podany (Karla Janing was unable to serve), Appointed Congregational Rep Greg Edwards, Board Rep Lucille Olson; Minister Rev. Sharon Ketchum
Jill Dening
Jill was appointed to fulfill the last 4 months of Casey Miller's term where she has done a stellar job as Board Secretary.  Jill has graciously agreed to put herself forward for a full board term.
Jill has been a member of USCL for 6+ years and has served in many roles – the tech team, the hospitality team, caretaker of garden beds, and Earthcare Team.
In addition to volunteering at USCL, Jill filled numerous volunteer roles when her daughters were in school including the following:
R.I.F. (Reading is Fundamental) distribution coordinator at Pleasant View Visual & Performing Arts Magnet School

Secretary of the Pleasant View PTA

Vice President of the Everett Marching Band Boosters

Concession Stand Manager at Spartan Stadium and the MSU Breslin Center which was the major fundraising event for the Everett High School Bands
Now that Jill's daughters are adults, she found herself looking for new volunteer opportunities,  so being asked to complete Casey's term was "perfect timing."  Jill looks forward to focusing her energy on being a servant leader on the USCL Board of Trustees.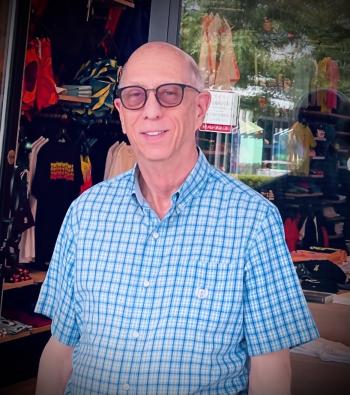 Jeff Benoit
I arrived at USCL about a year ago from the Chicago suburbs, where I was active as a chaplain and on the board at Unity In Naperville.  Since arriving here, I have been mainly active on our Admin Team and recently became its chair. 
I am motivated by the sense of knowing that the principles we teach are transformative to all those who seek and utilize them.  To the extent that our church prospers, it can attract and reach people in a varied and deep way.  The board's work is to assure that the ministry has the resources it needs to accomplish this goal.  I seek to be a part of that effort.