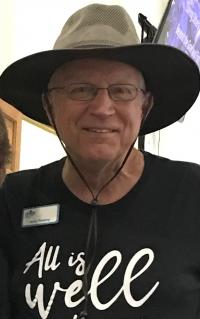 The Facilities Team is a new team that encompasses the care and management of our buildings and our grounds.  Team leader is Jerry Podany.  His right hand is Stacey Ames.  And there is a tremendous team of additional volunteers that have painted, cleaned, done carpentry work, drywall and mud, decorated, plus another team that tended to our grounds, weeding, watering, planting, cutting grass, picking up willow branches and more
During 2022, the team completed the repair of the Lodge deck, and a major renovation to the Upper Lodge which includes an accessible non-gendered bathroom, a office for our office manager, Jessica Shelton, a Prayer Room, a storage closet, a kitchenette and a classroom.  Unity received an occupancy permit for the upper level which means that the entire building is now open to the public.  The official grand opening is March 5th, following our Annual Meeting.
The grounds are growing in leaps and bounds.  The Memorial Forest is home to six new trees. There is a labyrinth (which will require some additional work in 2023 to sink the bricks.)  The 132 bushes and trees planted in 2021 are flourishing.  The magnificent willows around the pond have been trimmed to protect the building after some major breakage during wind storms.  The Congregation responded to a call to repair the well pump to keep the pond healthy by raising $11,000 in 10 minutes.
Looking ahead to 2023, there are a number of projects.  Perhaps you'd like to adopt one (or more)
1. Power washing the Lodge Deck (Unity has a power washer)
2.  Build a wall extension to the ceiling for the minister's office.
3. Replace Lodge front window.
4. Reroof Pump House (Roof had to be cut to repair well pump)
5. Paint Pump House
6. Give some attention to the Gazebo
7.  Create concrete pads for benches near the pond.
Plus we have our usual summer maintenance of garden beds and lawn
There is a training in the works for people to learn what is needed done to open and close the building - locks, parking lot lights, etc. The goal is to have 10 people trained in the "how-to's".