Unity Spiritual Center of Lansing has made the Unity Worldwide Ministries' diversity statement a part of our bylaws.
We have an Inclusion-Diversity Team (Inclusion, Diversity, Equity, Accessibility) to help us live into our value of inclusivity.
Unity Spiritual Center of Lansing's Diversity Statement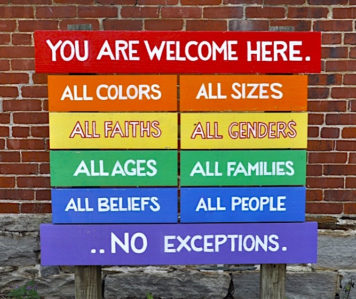 adopted from Unity Worldwide Ministries
Incorporated into the bylaws of Unity Spiritual Center of Lansing as a requirement of Membership
Unity Spiritual Center of Lansing's Inclusion/Diversity Statement
Unity Spiritual Center of Lansing, its members and affiliates, welcome with love all people in every form as God's creation. We embrace and honor the Divine within as the one common denominator that we share on our human journey.
We recognize the perfection represented in the mosaic of all humans by: race; culture; gender, sexual identity & orientation; body type; disability; economic status; neurodiversity; life experience; belief; ideas; and perspective.
We strive to expand beyond our individual unconscious biases, blinders, ignorance, and inexperience to create a space where gaps are uncovered, opportunities to be Love in action are identified, and wholeness is realized.
We affirm and support Unity principles and programs that are non-discriminatory and inclusive in our teachings, policies, buildings, and within our communities.
We champion the course of human rights and social justice for all. However varied, we are one.
[BOT – 2016, revised 2022, adopted into bylaws 2023]
As a member of Unity Worldwide Ministries (UWM), we support the resolution passed on Juneteenth, 2021 by UWM's Board of Trustees.  This resolution takes a stand on dismantling systemic racism, acknowledging and accepting our responsibility for its impact on black and brown neighbors.  It also lists the steps we are taking to dismantle systemtic racism within our movement and within our world.