Coming attractions for 2023
---
Sunday, June 11th
BE AN ANGEL -
MAKE YOUR MARK
following Sunday Service
Join us in a community art activity
Creating Angel wings with our handprints as feathers.  Paint and plastic gloves provided.
Make your mark - lend a hand! 
Art director: CJ Pratt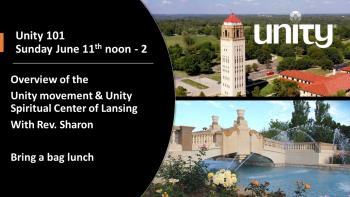 UNITY 101
Sunday June 11th
Noon - 2 pm with Rev. Sharon
Get an overview of the history of the Unity movement
Learn how Unity Spiritual Center of Lansing functions
BRING A BAG LUNCH
Note that if you are considering becoming a voting member of USCL, this class is a requirement of membership
---

DIAMOND SUTRA WORKSHOP
with Oliver Zhang
6:30 - 8:30 pm
June 27th to 28th Zoom
Come and explore the 32 chapters of the Diamond Sutra with Oliver Zhang
It is recommend all participants read the book the workshop will be based on this.
Unity Spiritual Center of Lansing Zoom Meeting Room
Meeting ID: 177 417 886 Passcode: 601744